You can quickly and easily modify any area with paint, but there are more bedroom painting ideas besides simply changing the colour of the walls. Painting bedroom furniture, flooring, and accent pieces is a simple way to freshen up a drab space. Painting woodwork, panelling, and accent pieces are also great ways to give a drab bedroom new emphasis.
When it comes to bedroom colour schemes, the tone you select may significantly affect the entire mood and feel of the room. Options range from deep, opulent hues that give ambience and depth to vibrant, zingy hues that can energise and refresh.
10 bedroom painting ideas
To add a vibrant pop of colour, paint the bed
It doesn't matter if it's the bedroom or you're thinking about paint ideas for every room; painting a main piece of furniture in a strong, eye-catching hue is a great way to energise and revitalise a space that lacks emphasis.
Any bedroom may benefit from a makeover, whether it's a straightforward timber bed frame or a dramatic four-poster. For optimum results, use a bold, eye-catching paint colour that contrasts or enhances the other bedroom furnishings. Bright, cheery yellow may quickly rejuvenate and revitalise the space since it pairs so well with light green flowery materials and wallpaper.
Panelling painted to make a statement
Ideas for bedroom wall décor can range from easy hacks to more complex designs. If you're looking for a simpler upgrade, panelling ideas for walls are a popular method to add character and colour to walls.
Consider using panelling paint ideas in a striking, eye-catching colour and cladding that is half or three-quarters the height of your wall. It may become the centre of attention in a space lacking in architectural characteristics if the headboard and bedding are colourful and coordinated. Another useful aspect that panelling may bring is the ability to conceal the wiring for wall lights and create a shelf for displaying ornamental items.
Woodwork can be transformed using inky tone
Consider going bolder and choosing a more colourful alternative for the woodwork rather than sticking to the traditional whites and neutrals for the furnishings and trim. Paint a worn-out closet a more colourful colour to give it new life. And to give a fashionable touch, why not think about swapping out drab panelled doors with ones with a woven cane or hessian panels?
A relaxing and serene backdrop may be created with blue bedroom ideas, making it ideal for a place where you wish to unwind. Additionally, despite the fact that blue is sometimes thought of as a frigid hue, pairing it with warmer tones like sand, caramel, and tan will remove the chill and provide warmth.
Try painting the bedroom walls halfway
In a place where you want to feel peaceful and comfortable, using all-over colour is frequently overpowering. If not done carefully, a bedroom devoid of colour or contrast might appear lifeless and bland. Try a half-and-half paint treatment to find a happy medium that will offer you the best of both worlds. This is a wonderful option for bedroom accent wall paint ideas.
While using calmer, neutral colours can soften the effect and prevent red from overpowering the space, red bedroom ideas are an excellent way to add warmth and richness. The addition of a deeper hue at the bottom will serve to anchor the space and create a striking backdrop for the bed.
A decadent shade to paint the alcoves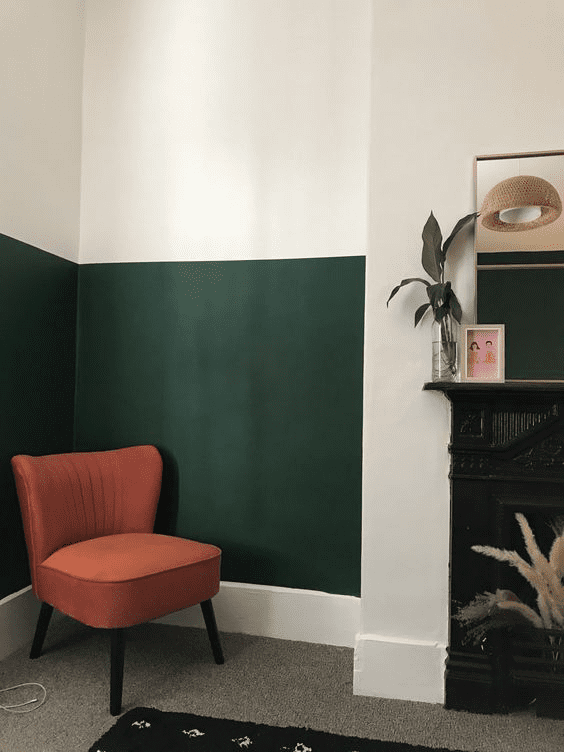 Dark bedrooms may feel cosy and cocooning, but if the overall darkness of the walls is too overwhelming, add a tiny splash of colour by focusing on an accent area. A smart suggestion for a retreat area in which to place a dressing table or workstation is to paint within an alcove or around a recess in a dark, sombre tone. Luxurious metallics and display items will stand out and dazzle more against a dark background.
Use both patterns and plains to bring balance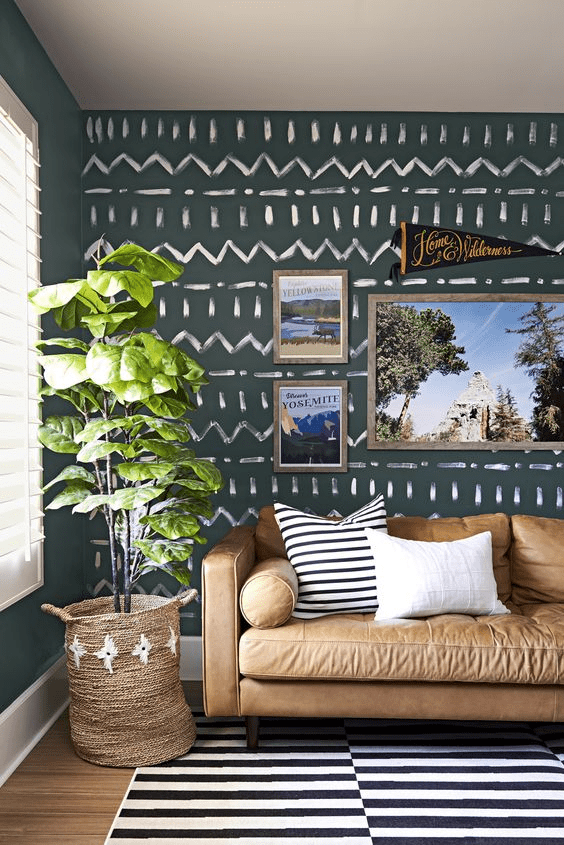 To add colour and design to a basic bedroom, try combining painted panelling with attractive wallpaper. A beautiful technique to add visual interest without the pattern overwhelming or dominating the space is to include a few panels of a stunning flowery wallpaper or a jazzy geometric set into a plain painting. It may also be a creative method to introduce a favourite pattern or pricey print without having to spend a bunch because just a few lengths of wallpaper are needed.
To create a coordinated effect, choose a paint colour that complements the wallpaper in your bedroom. This will serve to connect the two ideas.
Repurpose a simple piece with chalk paint
Painting bedroom furniture in a brand-new colour is a great way to give pre-loved items or thrift store finds that are beyond their prime new life. Using chalk paint for the project is a simple alternative that eliminates the prep work. Chalk paint provides good coverage with little effort since it is self-levelling and self-sealing.
For a novice, painting a closet, chest of drawers, or bedside table shouldn't be too challenging. When the inside is painted in a dramatic contrast colour like hot pink or lipstick red, a strong exterior colour like black or blue will stand out.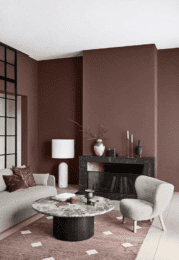 While painting furniture and walls is a simple way to update a room, floorboards are another option to think about because they can provide a lot of character to a tiny room or basic bedroom. Considerately concentrating on your flooring may provide a fashionable, coherent appearance. This rather odd decision is similar to ideas for painting the ceiling.
With a coat of varnish or floor paint, worn-out and shabby timber floorboards may be given a new lease of life. Alternatively, for an eye-catching checkerboard look that requires a little more time and work, paint and lacquered boards can be combined. To guarantee crisp lines, floorboards should first be cleaned and lightly sanded. Thereafter, all that is needed is a pencil, tape measure, and masking tape.
Curves in a dressing room painting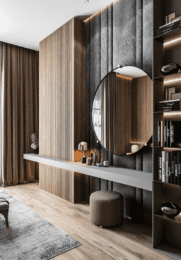 Boxy bedrooms or spaces devoid of any distinctive architectural characteristics can sometimes feel uninteresting and bland. Using paint to create a "fake" feature or accent element that will serve as the room's focal point is a creative visual approach.
Paint an arching panel on the wall in a contrasting colour to create a vanity area in a bedroom alcove or recess. Place a dressing table or console against the wall, using the painted surface as a stage for displaying furniture and accents. To highlight the archway's design and to give the room a polished finishing touch, add a round mirror and a curved chair.
Make a faux headboard using bright painting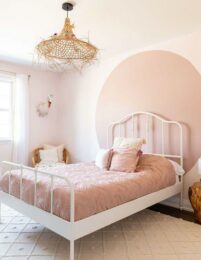 Looking for quick methods to add colour to simple white bedroom designs? Utilising contrast-coloured paint, create the appearance of a headboard to draw attention to the bed. Painting the wall behind the bed will give the impression of a super-sized headboard, which will make the bed the centre of attention in the bedroom. This is a simple method to give an unassuming wooden bedstead more importance.
Simply paint the surrounding wall space in the colour of your choice to frame the bed in a block effect to create headboard ideas like this. To further highlight the appearance, a section of hardwood trim painted in a dark accent colour will be added as contrast edging.